Woman calls Tu Jhoothi Main Makkaar 'disturbing' for "glorifying joint family systems"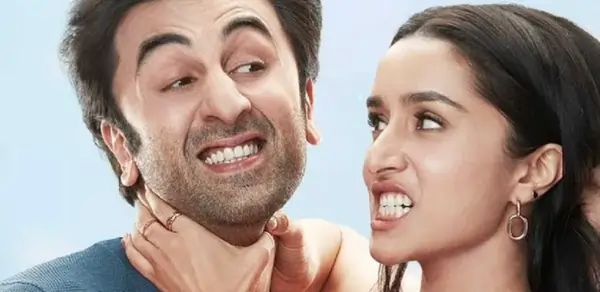 Movie Story
In the Movie Tu Jhoothi Main Makkaar, Mickey (Ranbir Kapoor) takes care of his family's business in Delhi. He also secretly runs a breakup business with the support of his friend Manu Dabbas (Anubhav Singh Bassi). Manu Dabbas, who is about to marry his girlfriend Kinchi (Monica Chaudhary), asks Mickey to help him with his breakup. Mickey and Manu Dabbas go to Spain for Manu and Kinchi's bachelor party. During this trip, Mickey meets Tinni (Shraddha Kapoor), a friend of Kinchi's, and immediately falls in love with her. Although Tinni is hesitant at first, she slowly begins to love Mickey. Mickey and Tinni even get approval from both their families to marry. Suddenly, there are problems between the lovebirds, and the wedding is called off. What are these problems? How have they affected the couple? Have Mickey and Tinni come to grips with their problems? This is part of the core of the story.
IMDb Rating:- 6.3/10
The Debate
The debate about whether joint families are better for couples than nuclear families has been going on for decades now. Ultimately, it's a matter of personal choice, isn't it? After the release of the film Tu Jhoothi Main Makkaar by the famous filmmaker Luv Ranjan (Pyar Ka Punchnama), the debate has been reignited.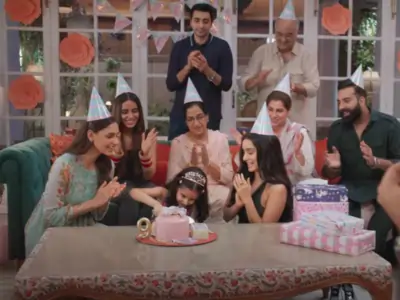 One woman accused the film starring Shraddha Kapoor, Ranbir Kapoor and Anubhav Singh Bassi of glorifying joint family systems.
She said it was disturbing to watch the film.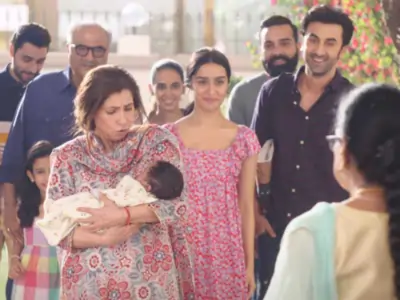 On Twitter, she wrote: "I saw tu jhooti main makkar and realised it's about glorifying the joint family system… they especially took a strong, independent woman and made her believe that she will be happy in a joint family system once she gives up her hopes of having her own house and independent life…"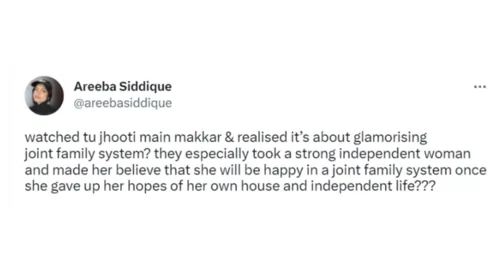 "Some women do not have a problem with the joint family system and that's fine, but to take a character who was ANTI-JOINT FAMILY SYSTEM and change her mind and put her in that situation and show that she's happier now was sooooo upsetting"
"Bollywood has never been perfect, but I didn't expect to see anything like this from a film that supposedly explores how modern relationships work."
"It gives men the false idea that they can take an independent woman and mold her to their own liking. This is not the case in reality."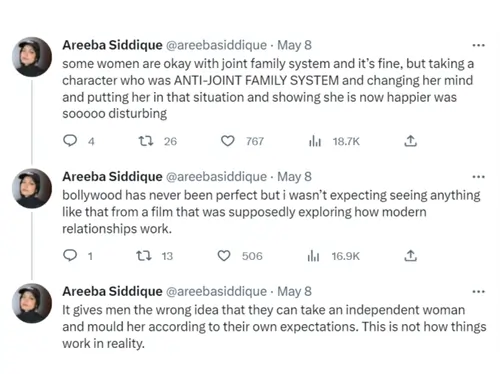 In response, one Twitter user cited examples of other films that glorify the sacrifice of women.
"The entire entertainment industry is like this. From "Sasural Genda Phool," in which a rich girl eventually learns to fit in with a middle-class family, to Anjali being forced to marry Ram in "Dhadkan," the plot is based on women's sacrifice and transformation.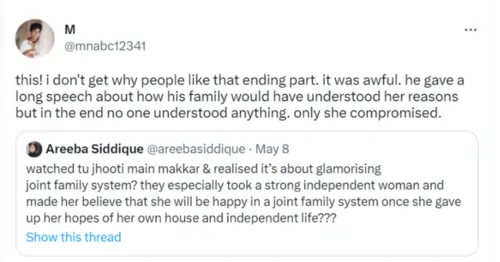 Some of the people think filmmaker Luv Ranjan hates women.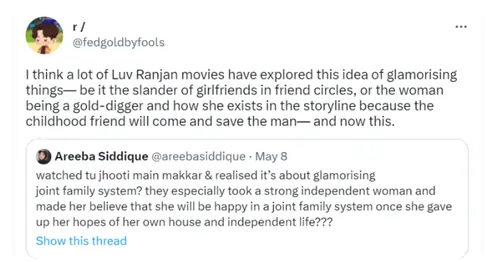 "It's taken a long time, but I'm glad people are seeing this. But as I said, what did we expect from Luv Ranjan?
"Luv Ranjan HATES women lmao"
"I thought Luv Runjan always portrays the heroine's choices as crimes"
Have you guys seen Tu Jhoothi Main Makkaar? What do you guys think of it?
TopCast
Ranbir Kapoor as Rohan "Mickey" Arora
Shraddha Kapoor as Nisha "Tinni" Malhotra
Dimple Kapadia as Renu Arora, Mickey's mother
Anubhav Singh Bassi as Manu Dabbas, Mickey's best friend
Boney Kapoor as Ramesh Arora, Mickey's father
Hasleen Kaur as Minny, Mickey's sister
Amber Rana as Ashish, Mickey's brother-in-law
Monica Chaudhary as Kinchi Dabbas, Manu's wife
Inayat Verma as Sweetu, Mickey's niece
Jatinder Kaur as Mrs. Arora, Mickey's grandmother
Rajesh Jais as Mr. Malhotra, Tinni's father
Ayesha Raza Mishra as Mrs. Malhotra, Tinni's mother
Dhruv Tyagi as Kunal Verma
Teena Singh as Jyoti Sharma
Kartik Aaryan as Rahul (cameo)
Nushrratt Bharuccha as Anya (cameo)
So,these is about Tu Jhoothi Main Makkaar. If you also want to know about the Best Biryani In Hyderabad or Best Biryani in Bangalore than read our other article too.