The Biggest Car Manufacturers in the World! Top 11 you must know about.
Did you know Tata Motors owns the Jaguar brand? Or that Toyota owns the luxury brand, Lexus?
Family Trees of Car Manufacturers Explained
Car companies own multiple brands under them and market the cars with the brand's name only that most of the time we are unaware of the original owner. Also, some old brands, known for their nationality, transfer the control to corporations from other countries. But they remain true to their roots that we never realise the current head of such brands.
Here is the present ownership status of each brand, how it came to be housed under it and other titbits of history for you.
Car Brands and their Subsidiaries
Automobile companies buy and sell shares frequently so it is hard to keep track of who is in control of which brand. We have the status of some of the major brands as of 2022 here.
Volkswagen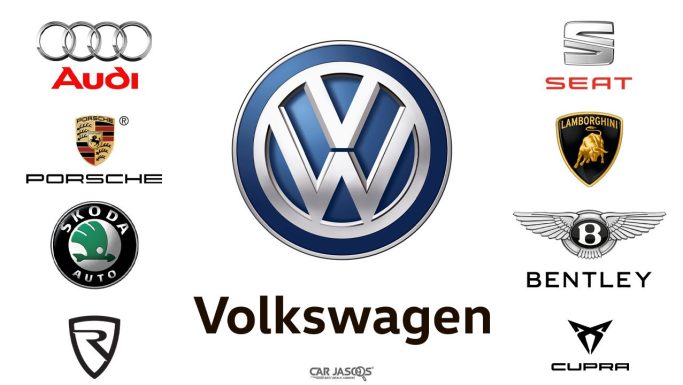 The German manufacturer Volkswagen was founded in the year 1937 by the German Labour Front. Their first-ever model Beetle came out the next year and kept running for the next 65 years. From 1938 to 2003, the Beetle claims the record of being the longest-running car in the world. VW also introduced a new Beetle after that to keep the line continuing.
Audi
Daimler Benz originally owned Audi till 1965 when Volkswagen purchased the control of the name and the brand. Before that Audi had been completely dormant for almost 25 years. Now the brand is the trademark for luxury vehicles all over the world.
Lamborghini
Lamborghini is owned by Audi currently and is one of the leading premium car builders with models like the Aventador, Huracon and Urus SUV. Lamborghini is known for its Italian roots founded in 1963 and its design of luxury sports cars and SUVs.
Bentley
Bentley, the British luxury sports tourer manufacturing company was founded in 1919. Rolls-Royce bought it 12 years after that and kept the company till 1980 when it faced bankruptcy. Vickers PLC bought Bentley from Rolls Royce and then later passed on the ownership to Volkswagen in 1998. The brand was brought back to its original glory by the VW group after this transfer of ownership.
Bugatti
The Italian industrial designer Ettore Bugatti founded the Automobiles Ettore Bugatti in the year 1909. This original company became defunct in 1963 following the death of the founder in 1947. In 1987, the Italian entrepreneur Romano Artioli bought the company, renamed it Bugatti Automobili SpA and revived the name for the next decade. Volkswagen Group, in 1998, acquired full rights to Bugatti and has been responsible for the company's flourishing in the last couple of decades.
Rimac Automobili
Mate Rima began the Croatian manufacturing company, Rimac Automobili, in the year 2009. Their advanced battery and electric vehicle technology attracted the VW group who wanted to access their technology for which they offered Rimac a 55 per cent share in Bugatti. The deal became official in 2021 and made Rimac the CEO of the company.
Skoda
Skoda is a Czech automobile manufacturing company which began as Skoda works in 1859. Skoda Works ran as an arms manufacturer and then turned to bicycles and motor vehicles in 1895. Skoda is the fifth oldest company in the world producing automobiles after Daimler, Opel, Peugeot and Tatra. Volkswagen gained complete control of Skoda in the year 2000. VW acquired Skoda with the main aim of producing entry-level vehicles through the brand. Utilising technologies and designs that are common to both brands, Skoda has been building vehicles that are cheaper than that VW.
Porsche
Porsche had been an independent and successful sports car manufacturer since its beginning in 1931. In the late 2000s, VW began courting the company in hopes of buying them out. But Porsche held on as long as it could till 2012 when VW won the corporate battle and completed the merger with one of the most profitable companies in the world.
Seat
Seat was managed by the Spanish Government between the years 1950 and 1986. It fell to the Volkswagen Group's buying spree in 1990 when it bought 99.99 per cent of the shares.
Cupra
Cupra was the motorsport division of the Seat, named then the Seat Sport. VW rebadged the division as Cupra in 2018.
2. General Motors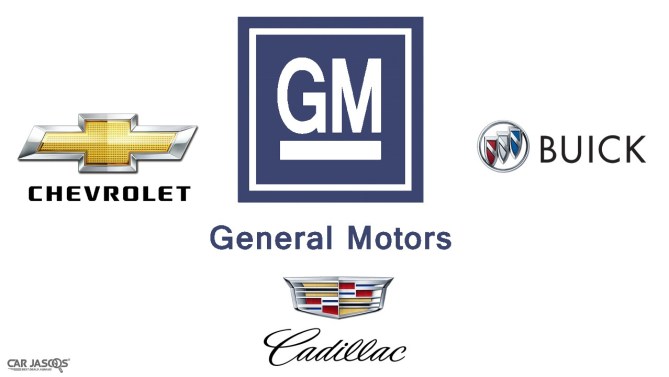 General Motors or more commonly referred to as GM, the company is one of the largest in the automobile sector of America. It was founded way back in 1908 and has been in the manufacturing business for almost 110 years now. It has markets in 15 different countries with its main headquarters located in Detroit.
Chevrolet
Originally founded as a separate entity, Chevrolet or Chevy began its journey in 1911. After a lot of corporate issues that followed, GM absorbed Chevrolet into itself as a private division in the year 1918 and went on to become its flagship brand.
Buick
Named after its founder David Dunbar Buick, the company was formed a long time ago in 1899 as Buick Auto-Vim and Power Company. GM's then-owner William C. Durant incorporated Buick into General Motors in 1908. Buick hit all-time low sales in 2020 from which it is yet to recover.
Cadillac
Cadillac was founded in 1902 and later acquired by General Motors in 1909. It is the luxury division of General Motors. The brand is still manufacturing a wide range of automobiles including sedans, SUVs, crossovers and roadsters. Their designs make history and make trends all over the world.
3. Toyota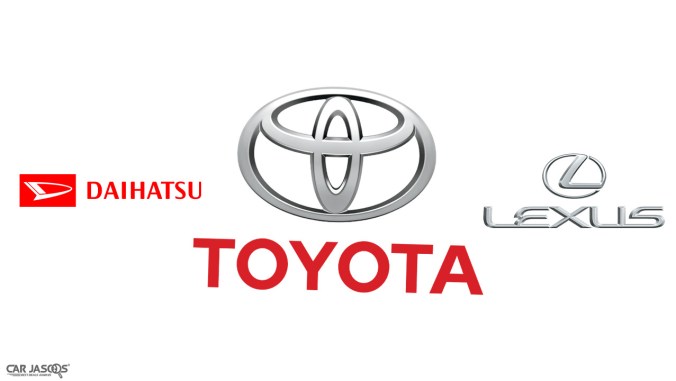 Founded in 1937, Toyota is one of the leading brands in the automobile sector with the production of millions of cars each year including heavy commercial vehicles badged under 'Hino'. Toyota is also the parent company of the brands – Lexus and Daihatsu.
Lexus
Toyota founded Lexus in 1989 to produce the company's luxury vehicles under a new name. With its headquarters in Japan, Lexus has been successfully producing some of the best luxury SUVs in the world. It has also consistently ranked among the top 10 brands from Japan performing well globally.
Daihatsu
Born as Hatsudoki Seizo in 1907, Daihatsu was rechristened so in 1951. It came under Toyota's wings much later in the year 2016.
Stellantis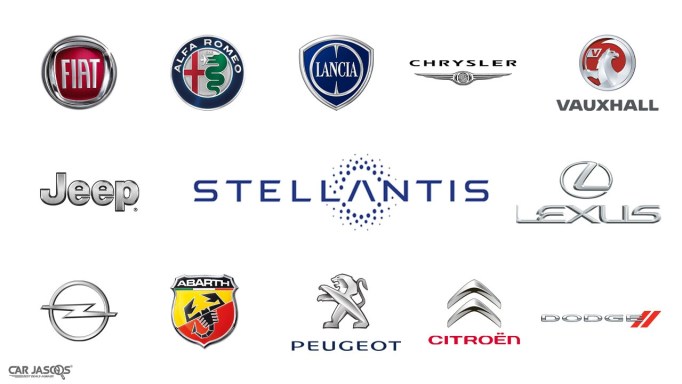 Stellantis is an automotive manufacturing corporation that began in 2021 consisting of the Fiat Chrysler Automobiles (FCA) and PSA Group. It has its headquarters in Amsterdam, Netherlands.
Subsidiaries under FCA
Fiat
A major car brand in Europe, Fiat is the largest in Italy and was in its peak during the 1900s. It was founded in 1899 and was a part of Fiat Chrysler Automobiles earlier. It became a subsidiary of the Stellantis Corporation in 2021.
Abarth
Carlo Abarth founded Abarth as a performance division and a road and race car manufacturing company. Fiat bought Abarth in 1971 and in the next 10 years, the brand completely went dormant. In 2007, the Abarth name was revived again as an independent unit controlled fully by Fiat and started its own line of passenger and light commercial vehicles.
Chrysler
Chrysler is one of the Big Three in America along with Ford Motor Company and General Motors. It was begun as the United States Motor Company in 1910 and later went on to be restructured and renamed as the Chrysler Corporation in the year 1925.  Daimler had control of the company from 1998 to 2007 after which it again transferred hands and landed with Fiat in 2009. Fiat bought the remaining shares in 2014 and acquired full control of the brand in 2014.
Dodge
Dodge, earlier a mid-priced segment of Chrysler came under Fiat and in turn the Stellantis Corporation in 2009. It was started as the Dodge Brothers Company in 1900.
Jeep
Jeep has changed a number of hands through the years that includes AMC, Chrysler, Daimler, and is currently owned by Fiat. The brand is known for its all-wheel-drive military vehicles. It started the production of civilian models in 1945.
Alfa Romeo
Founded 112 years ago in Italy, Alfo Romeo was named Anonima Lombarda Fabbrica Automobili which was shortened to Alfa. It was acquired by Fiat Chrysler Automobiles in the year 2007.
Lancia
The current Lancia subsidiary of FCA may have begun only in 2007 but its history goes back to 1906 when it was founded as the Lancia and C. Fiat bought it in 1969 and has a respected stature in the motorsport world due to its achievements in the Manufacturers Championships and innovative technologies.
Subsidiaries under PSA
Peugeot
When it was founded it began as a steel foundry in 1810 and then later switched to bicycles, tricycles and engine manufacturing. Peugeot still retains the majority shares with the French Government and Dongfeng Motors both having 14 per cent shared.
Citroën
The French manufacturer Citroën begun in 1919 earned its reputation with many innovative and advanced technologies even back in the 1930s. It has a motorsport division as well and was taken over fully by Peugeot in 1976.
Opel
Opel initially was a manufacturing company for sewing machines when it was founded in 1863. Then later it entered the automobile manufacturing segment in 1899. It was owned by General Motors from 1929 till 2017 when the Peugeot acquired complete rights over the company.
Vauxhall
Originally a pump and marine engine manufacturer based out of the United Kingdom, Vauxhall was started in 1857. It entered the car manufacturing industry much later in 1903. General Motors bought the company in 1925 and was rebadged after 55 years in 1980. Vauxhall was acquired along with Opel in the deal by PSA during the year 2017.
Daimler AG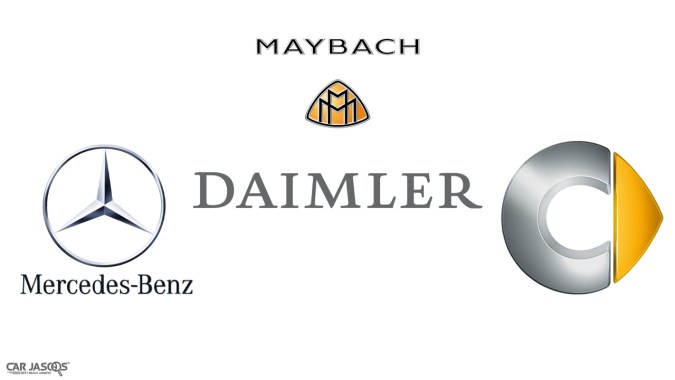 Daimler Motoren Gesellschaft was a german Engineering company which turned into an automaker later. This was founded in 1890 and remained functional till 1926 when the Daimler-Benz was formed by the company's merging with Benz & Cie. It was rechristened as Daimler Chrysler when it bought the Chrysler Corporation in 1998. Daimler AG came into existence in 2007 after it sold the Chrysler subsidiary.
Now, it is functioning as Mercedes-Benz Group as renamed in the February of 2022.
Mercedes-Benz
The original Benz & Cie. Founded by Carl Benz in 1883. One of the oldest car manufacturers, today it exists as Mercedes-Benz group. The high-performance car division of Mercedes-Benz is called AMG and is renowned for its achievements in the Constructors Championships for consecutive 6 years.
Related Article: Mercedes-Benz Brand History: Know What is the History of Stuttgart-based Three-Pointed Star Brand
Smart
Daimler AG produces microcars and subcompacts under its subsidiary Smart. Smart started manufacturing its cars in China in 2019 through the joint partnership of Daimler and Geely.
Maybach
Maybach is Daimler's ultra-luxury division that did not perform well. The brand was halted for almost 3 years from 2012 to 2015 when it was again rebranded as 'Mercedes-Maybach'.
Bavarian Motor Works (BMW)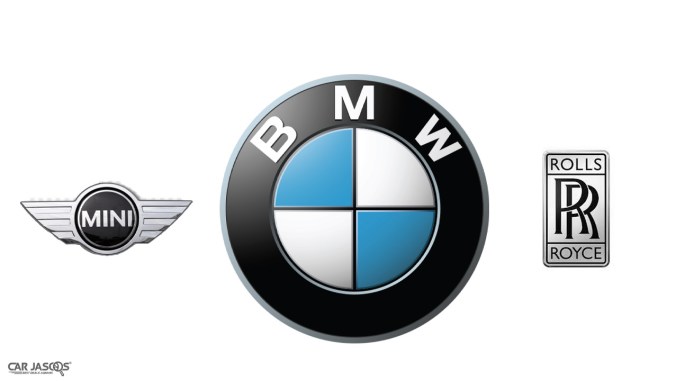 Bavarian Motor Works is another century-old company (founded in 1916) that has shareholders from across continents. A revered name among automobile enthusiasts, BMW holds the Mini and Rolls-Royce brands under its umbrella.
Related Article: BMW Brand History: Here's How the German Automobile Brand Reached Heights of Success
Mini
British Motor Corporation was the one to launch the first Mini car in 1959. It, later on, went to become a brand of its own in 1969. BMW acquired full rights to the Mini brand in 1994.
Rolls-Royce
The name Rolls-Royce means royalty in the automobile industry. The renowned luxury brand was founded in the year 1906 and has produced engines for airlines and a wide range of luxury vehicles throughout its lifetime. The company became nationalised in 191 and then after its privatisation in 1998, it was purchased by BMW in 2003. VW owned Rolls-Royce as well between the years 1998 and 2003.
Related Article: Rolls-Royce Brand History: Here is How The World's Classiest Luxury Car Brand Evolved and Progressed
Renault-Nissan-Mitsubishi Alliance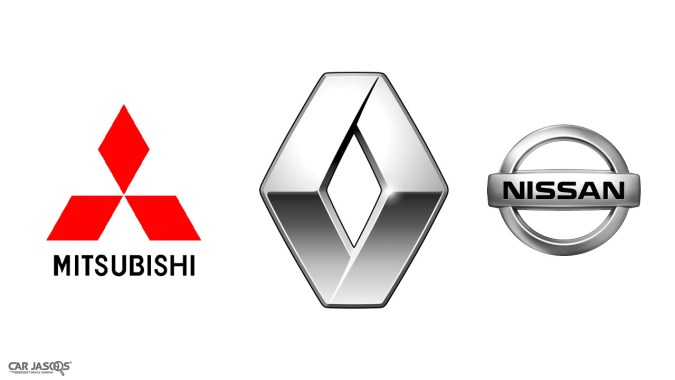 In 2020, Renault, Nissan and Mitsubishi formed the alliance in 1999. The alliance controls 10 major brands like control ten major brands: Renault, Nissan, Mitsubishi, Infiniti, Renault Samsung, Dacia, Alpine, Datsun, Venucia and Lada.
Tata Motors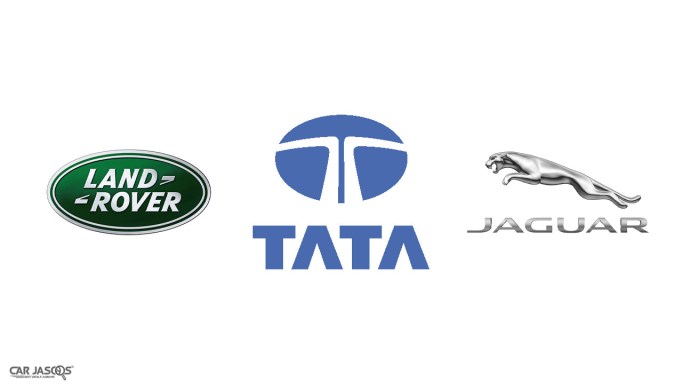 Tata Motors, founded in 1945, is from India and is the automobile division of the Tata Group. Daimler-Benz had a partnership with Tata Motors for a period of 15 years from 1954 to 1969.
Land Rover
Land Rover was founded in 1948 and attained its global popularity through the Land Rover series, the brand's flagship range of luxury SUVs. Tata Motors bought Land Rover in 2008.
Jaguar
Jaguar was founded in 1922 in Britain and the luxury brand was under Ford between 1989 and 2008. The sales performance was bad during that period and Ford sold Jaguar and Land Rover together to Tata Motors.
Land Rover and Jaguar have launched a lot of successful models since they came under Tata's leadership. They have also received much-needed investment like the Ingenium engine plant in the UK which has served its purpose by boosting its sales and popularity.
Hyundai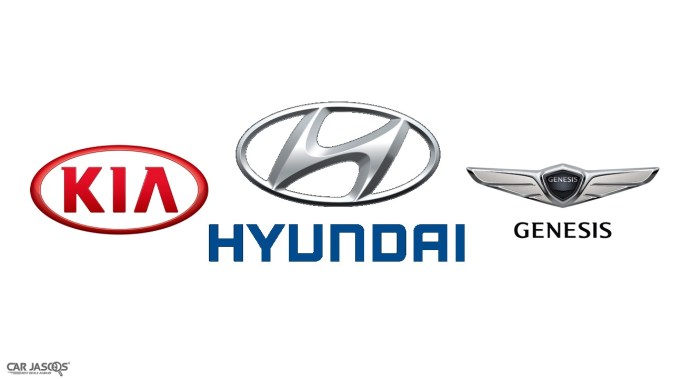 Hyundai is a South Korean car manufacturing company founded in 1967. It has grown to be one of the largest auto manufacturers today. Their cars are usually built for normal people with excellent features. Recently the company has expanded its line into performance models like the full-fat i30N hot hatch.
Kia
Hyundai owns 67% shares in Kia and similarly builds an affordable range of vehicles. Kia's entry into India with models like the Sonet and Seltos has increased the brand's popularity in the domestic market. Hyundai brought Kia back from the downturn it was facing in 1997.
Genesis
Hyundai developed Genesis in 2015 following which it grew into its own brand. It builds high-performance sedans and SUVs.
Geely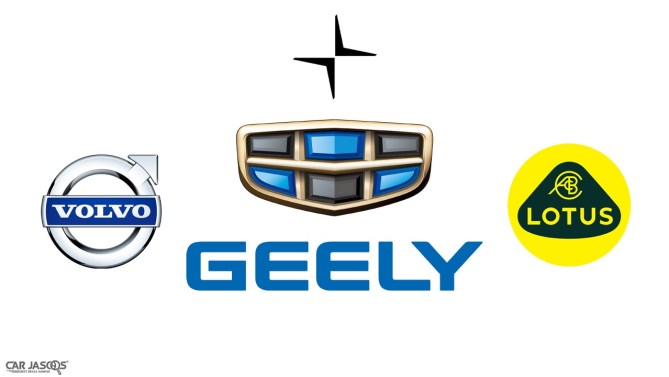 Zhejiang Geely Holding Group is a Chinese company established in 1986. It entered the automobile field in 1997. It is one of the highly successful car brands in China. Geely owns rights to Volvo, Lotus and Polestar brands.
Volvo
Volvo was founded in 1915 and entered car manufacturing in 1927. The automobile division was sold in 1999. For a brief period of time, Ford managed the Volvo brand and then sold it to Geely in 2010.
Lotus
Lotus began in 1948 and has been building minimalist, lightweight performance cars for the past 70 years. Geely bought controlling interest of Lotus in 2017.
Polestar
Polestar was established in 1996 and existed as Volvo's performance and racing division. Volvo acquired Polestar completely in 2015 and renamed the racing division Lynk & Co.
Mahindra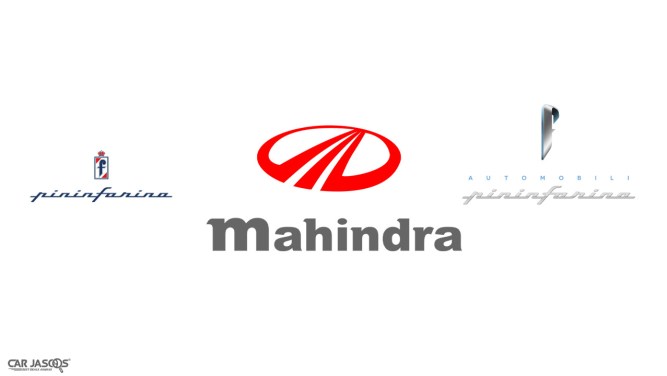 Mahindra started out as a steel trading company and slowly branched out to assembling and exporting vehicles. Later in 2002, Mahindra launched its first car, Scorpio. The Indian brand also has Pininfarina and Automobili Pininfarina under its umbrella.
Pininfarina
Mahindra Group owns 76 per cent shares of the Italian manufacturer Pininfarina (founded in 1930) since 2015. However, the company functions with its headquarters in Italy.
Automobili Pininfarina
Automobili Pininfarina is Mahindra's automotive subsidiary and is a separate entity. It was founded in 2018 and has manufactured the Batista.
Also Read:
Lamborghini Brand History: Here is How Luxury Sports Cars Became a Reality
Audi Brand History: Hear the Story of the German 'Four Rings' Brand
Related