Get Your Taste Buds Tingling with Kolkata's Best Biryani
Biryani is a very favourite dish among the people of India. Be it an occasion, any festivity, a birthday party or just random casual outings, Biryani is one of the most asked dishes. In Kolkata, On special occasions, Biryani is a must and therefore we have chosen the best restaurants and the best shops where you will get amazing biryani. These restaurants are rated as the top restaurants and have the best biryani options in entire Kolkata. They have good reviews from the people. The service is quite decent. If you talk about food, the taste is amazing. They make sure that they use high-quality ingredients and keep the consumers' health as a primary priority. The dishes are among the best ones and these restaurants should be visited for sure if you are in Kolkata and are craving some biryani. Please go through our list of the best biryani in Kolkata and let us know if you visit these places and give your reviews on our site.
Arsalan Restaurant And Caterer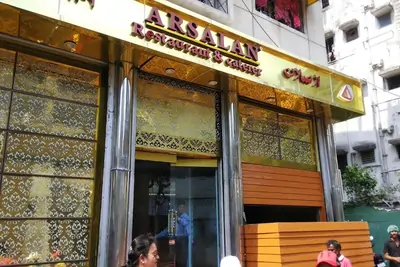 Location: Marina Garden Court, No. 191, 7 Point, Park St, Beniapukur, Kolkata, West Bengal 700014
Price: ₹350 onwards
This restaurant is one of the most famous biryani spots in Kolkata. It Specializes in Mughlai cuisine. It has thousands of loyal customers who visit the restaurant from time to time to enjoy very delicious meals. Chicken biryani should be tried if you're visiting Arsalan. They serve the biryani with freshly cooked and tender meat and long grain rice.
The taste in the biryani can be savoured with every bite. They also have egg biryani and mutton chaap among other quite popular and demanded dishes. You can also try Firni for desserts. The ambience is amazing, along with prompt service. The seating arrangement is nice to visit with your family. Overall, this restaurant is one of the best biryani restaurants in Kolkata.
Kareem's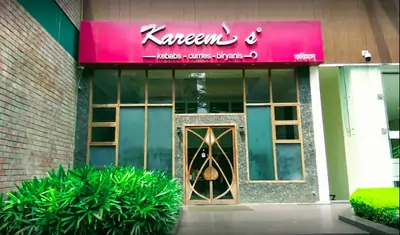 Location: PS Srijan Corporate Park, Retail Unit – 2, Tower – I Plot G-2, Street Number 25, GP Block, Sector V, Bidhannagar, Kolkata, West Bengal 700091
Price: ₹300 onwards
https://goo.gl/maps/TUB29x8khSGsA4Hp7
Kareem's is one of the most famous restaurants which is a very good place for fine dining. It is located in a dense area and hence it might be a little difficult to park your vehicle there. However, all the difficulties you take to reach this place will be worth it when you have the food prepared here. The most famous biryani in this restaurant is the Awadhi style biryani.
There are also options such as Gosht dum biryani and murgh Tikka dum biryani. These biryanis are the main signature biryanis of this place. You can also try various kebabs prepared here such as Murg tangdi Kulfi kebab and gosht kakori kebab. Kareem's also has various styles of Bengali biryani such as Kolkata style Biryani that has potato and egg included. The entire restaurant is very serene and the ambience is good. You can go with the family. The place is very calm and it will be an enjoyable experience. This is one of the best restaurants for biryani in Kolkata.
Shiraz – Golden Restaurant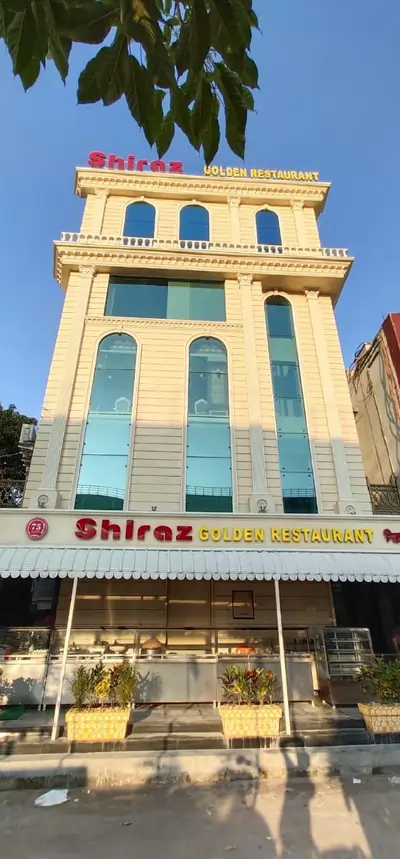 Location: 135, Park St, behind Neuro Science Hospital, Park Circus, Beniapukur, Kolkata, West Bengal 700017
Price: ₹300 onwards
Shiraz is a very popular restaurant that has been running since 1970. It has gained so much love and popularity among the commoners that even till today it is crowded most of the time. They serve amazing biryani, especially the Lucknow biryani. Along with biryani, people also love their starter options such as Chicken Mutton Chaap. This restaurant has been visited by various celebrities from India and abroad.
The restaurant has six outlets throughout Kolkata. The park street outlet is one of the most popular ones since it is located in a prime location. Shiraz is one of the best restaurants in Kolkata that serve amazing biryani.
Oudh 1590 Deshapriya Park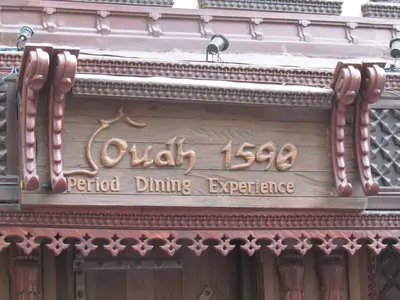 Location: Singhs, Deshapriya Park W, near Carmel primary school, Manoharpukur, Kalighat, Kolkata, West Bengal 700026
Price: ₹300 onwards
This restaurant is one of the most famous places with multiple sites across Kolkata. They serve amazing dishes and the experience will take you back in time to 1590. They use traditional enjoyable Oudh food and ambience to enhance your dining time here. You can feel the vibe of Nawabs and Bawarchis at this place. The food is amazing, especially the biryani. The most popular one is the Raan Biryani.
The ambience will make you feel like you are sitting in a royal palace and being served by palace workers. It might be a little expensive to dine here but the experience is worth the price. The biryani served here is one of the best in Kolkata.
Paradise Biryani | Southern Avenue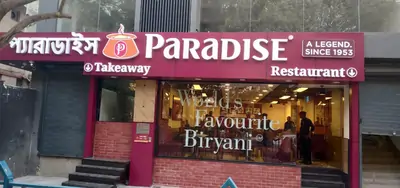 Location: Ground Floor, Paradise Biryani, 24, Southern Ave, Lake Range, Kalighat, Kolkata, West Bengal 700016
Price: ₹250 onwards
Paradise Restaurants are a chain of restaurants that are famous for their biryani. They have expanded the chain to 47 restaurants now. The first restaurant was launched in Kolkata and hence, this place holds the authentic taste that you would crave again once you taste the biryani at this place. It is located in the upmarket Southern Avenue and thus reaching this place is quite easy. The ambience is quite aesthetic. They have a detailed menu.
However, the famous biryani here is the Hyderabadi Biryani. They also have mutton and chicken biryani which is mouth-watering and varieties of kebabs. If you are in Kolkata and are a food lover, you should visit this place the next time you wish for delicious biryani.
Shimla Biryani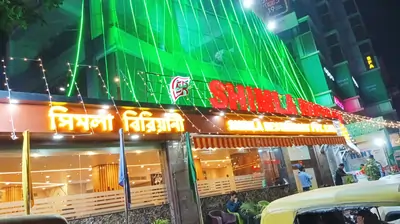 Location: 415, Bangaon – Kulpi Rd, Hastings, Hastings Colony, VIP Nagar, Kolkata, West Bengal 700100
Price: ₹200 onwards
Shimla Biryani is another popular restaurant located in the suburbs of Kolkata. They have various Biryani options, among which the most loved one is the authentic chicken biryani. They also have starters and desserts for a complete meal package. Shimla Biryani is loved by many because of the Ambience and the convenience the restaurant has. It has a very calm surrounding, mostly giving a very illuminating look. It is also a good location for clicking pictures.
So, here is the list of Best Biryani in Kolkata. If you also want to know about the Best Biryani In Hyderabad or Best Biryani in Bangalore than read our other article too.